Community Information
The cities and towns that we serve are listed below. If you would like to find out about the latest homes that have become availible in those communites please contact us at 408-823-3600, or you can set up a custome
Private Search.



Click on the underlined cities to view a dscription of the city:


Atherton
TOP OF PAGE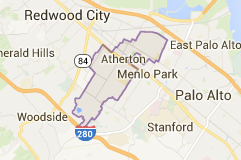 Atherton located in southern San Mateo County; just a short drive from Palo Alto and Stanford University lays the prestigious town of Atherton. Named after Faxon Atherton, a rich hide and tallow trader from Chile who bought over 600 acres and built the first mansion in the area, Atherton is rich in history and unique in its character
Beginning on the flatlands and moving westward to the hills, Atherton features beautiful heritage trees and elegant gardens. It is still a "plain of oaks" and residents like it that way. There are 49 miles of roads in Atherton and about 2500 households with no industry or business in the town. Residents shop in nearby Menlo Park, Redwood City and Palo Alto.
Students attend either one of the several private schools in town or schools in the Menlo Park/Las Lomitas elementary districts and the Sequoia Union High district. The high school, Menlo-Atherton High, is one of the highest scoring schools in the peninsula and it is supported strongly by the community through bonds.
Atherton has gorgeous views everywhere. On the flatlands, you can enjoy abundance native live oaks, white oaks, bay trees, redwood trees, cedars, pines and other ornamental trees. In the hills you can see the bay. Commuting to Silicon Valley and Stanford is easy via freeway or CalTrain.
Traffic is strictly regulated and it is the police department's policy to respond to each and every call. This makes Atherton an excellent location for families who can afford it.
Campbell
TOP OF PAGE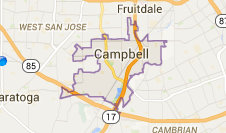 Almost surrounded by San Jose, Campbell is located close to Silicon Valley Industries and is home to many high tech firms. At one time famous for its prunes, Campbell celebrates its heritage with an annual Prune Festival and has named one of its major shopping malls "The Prune Yard." One of Santa Clara County's older suburbs, Campbell has many long-time residents who know each other. A town prides itself on being sophisticated yet retaining a small-town atmosphere. Schools rank well above the 50th percentile with some in the 90s. Community support is strong with at least two bonds having been passed in recent years for improvements. Crime rates are low to average. A more or less middle-class town, Campbell's homes are mostly three bedroom. There are many restaurants and plenty of shopping. The downtown has been nicely upgraded and includes many small shops and coffee houses. Residents enjoy a 30-acre community center with gyms, auditorium, track and tennis, as well as a year-round pool and fourteen parks. There is a pleasant bike trail along a local creek, which will take you into Los Gatos. Balmy Santa Clara Valley with average temperatures add to the enjoyment with winter lows around 50° and summer averages around 80°.
Cupertino
TOP OF PAGE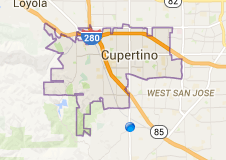 Cupertino is world-renowned for the quality of its schools, which score very high. Many schools have won state and national recognition for academic excellence. Computer education is outstanding in this district. Vice President Al Gore once visited the city's Monta Vista High School and Homestead High was honored at a White House ceremony. Community and business support is very strong for education in Cupertino. Close to the heart of Silicon Valley, Cupertino offers a short commute to most high tech firms, including the headquarters for both Tandem Computers and Apple Computer. Cupertino is an attractive city, rising from flatlands to hills. It has a wide variety of housing choices. Homes in the hills are more expensive, ranging as high as $1 million-plus in price. Those on lower ground are more moderately priced. While schools receive most of the attention in Cupertino, recreational activities are plentiful as well. The city itself offers over 200 activities from painting to karate and the soccer leagues draw over 1,000 children. The after-school music program and Shakespeare for the Kids are popular. Family's can enjoys 13 parks, a nature preserve, and a racquet club as well as bowling and ice-skating. The local Junior College, De Anza, offers many classes for the community. Residents enjoy the city events such as the arts and wine festival, Heritage parade and De Anza Days under pleasant skies with winter average temperatures of around 50° and summer averages around 80°.

East Palo Alto
TOP OF PAGE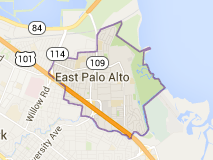 For most of its history, East Palo Alto was part of unincorporated San Mateo County. As such, it did not have an official boundary until it incorporated in 1983. However, the area historically regarded as East Palo Alto was much larger than the city's current 2.5 square miles. (See map.) Large tracts were annexed by Menlo Park and Palo Alto from the late 1940s to the early 1960s. The original inhabitants were Ohlone/Costanoan Native Americans. Spanish ranchers took over, followed by Caucasian speculators and settlers. For a time Chinese laborers were prevalent. Asian and Italian flower growers preceded the flood of middle-class Caucasians drawn to post-war housing developments. East Palo Alto later became the largest African American community on the peninsula. Today the city possesses a multi-ethnic population, which includes a large number of Hispanics and Pacific Islanders. Trade has alternately focused on ranching, transportation and shipping, brick manufacturing, farming, servicing travelers of Bayshore Highway and Dumbarton Bridge, and flower growing. At present there is a mix of small industrial, agricultural and commercial businesses. These changes, and the population shifts that accompanied them, may be partially responsible for the notion that East Palo Alto lacks the kind of strong community identity possessed by its neighbors. Since it was founded around 1849, the town has experienced erratic growth and frequent conflict. But some things have remained constant, namely the characteristics that have always attracted people to the area: the price of land and housing; a beautiful, rural-like setting; its centralized location; proximity to transportation and San Francisco Bay; and some of the most enviable weather in the nation.
Los Altos
TOP OF PAGE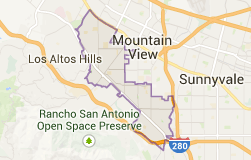 Los Altos is one of Santa Clara County's most prestigious towns. It is located in the northern end of the county, just 10 minutes from Palo Alto and Stanford University. With a quaint and charming downtown, Los Altos features many first-class restaurants, bakeries, art galleries and boutiques.
Possessing a country atmosphere, many of the streets in this city are lined with tall trees and are without sidewalks. It is a peaceful, yet upscale feeling. The town slopes gently toward San Francisco Bay and sports many homes on large lots of 1/4 acre or more.
School rankings in Los Altos are very high and crime ratings are among the lowest in the state. High school seniors have many higher educational opportunities nearby including Foothill Junior College and Stanford University. After graduating college, there are a multitude of employment opportunities within a short commute including many Silicon Valley firms like Intel, Apple Computer and Hewlett-Packard.
After work and school, residents can enjoy a variety of recreational opportunities. There are 10 parks in Los Altos and many youth activities, including baseball, soccer, drama and dance. The library has been expanded and there is a yearly Festival of Lights Parade as well as an annual Pet Parade, both of which are very popular.
Temperatures in Los Altos are Bay Area mild with the wintertime averages around 58-60° and summertime averages hovering around 75-80°.
Los Altos Hills
TOP OF PAGE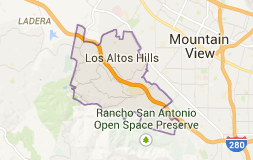 Los Altos Hills has the honor of being home to many of Santa Clara County's top professionals. Originally known as a place for wealthy San Franciscans who were escaping the fog, Los Altos Hills was incorporated in 1956 to control development. Located in the hills above Silicon Valley, this city is now stable, established and intimate. Offering gorgeous valley views, Los Altos Hills homes are on one-acre lots minimum. Trees overhang many roads, creating tunnels of leaves and branches, which shelter mansions of elegance and taste, many of which have pools and tennis courts. This is also an area for equestrians and it is not uncommon to find quality stables on properties. Laws in Los Altos Hills protect the area's lush redwoods, oaks and vegetation. Some locals enjoy membership in the local country club and many take advantage of the cultural life offered through Foothill Community College. Walkers enjoy the many paths that meander throughout town and there are various other recreational opportunities throughout the area including golf, tennis and horseback riding. Served by the Los Altos School District, schools in the area score very high with Santa Rita and Bullis-Purissima having received national blue ribbons for academic excellence.
Los Gatos Mountains
TOP OF PAGE
John Steinbeck once wrote in a letter to a friend that his Los Gatos Mountain ranch was "so beautiful that often I am embarrassed to be living here." Many Los Gatos Mountain residents feel that way even today, as this Santa Clara County location remains beautiful and is one of the area's most prestigious addresses with many lovely homes—from majestic estates to quiet hideaways. Located just on the edge of the town of Los Gatos, the Los Gatos Mountains offer a mountain-retreat feel with close proximity to all city conveniences. Lexington Reservoir is a wonderful location for recreation and reflection and there are peaceful spots throughout the area for hiking, biking and leisure. Nestled under the forested tops of the Santa Cruz Mountains, it's no wonder that the Los Gatos Mountains are so desirable. Students attend the excellent Los Gatos schools, while residents enjoy upscale shopping and exquisite dining, both just moments away.
Los Gatos / Monte Sereno
TOP OF PAGE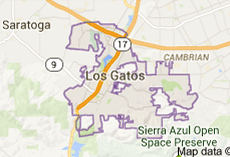 Flat lands rise to wooded and open hills in this city where there are a mix of many different types of homes. From beautifully restored Victorians to brand
new homes, majestic hillside estates to townhomes and condominiums, Los Gatos has something for everyone. Recreational opportunities are abundant in Los Gatos. The beach at Santa Cruz is just over the hill and right in t
own is Vasona Lake—the perfect location for a walk or picnic. Combined with adjacent Oak Meadow Park, there are over 400 acres of open space in this location. Los Gatos has a golf course and two local swim and racquet clubs, Gatos Athletic Association, which keeps runners busy with track and field events. The quaint down town area is one of the finest for shopping and restaurants. Schools are among the best in the state. Los Gatos High has received national honors for its programs. Fisher School has a computer lab-arcade, which was set up by Apple co-founder Steve Wozniak. Parents strongly support their schools and it shows. Los Gatos is just a short distance from the heart of Silicon Valley and its many employment opportunities. High tech jobs are numerous.as well as the Los
Menlo Park
TOP OF PAGE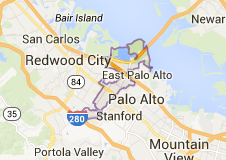 At the turn of the 20th century, Menlo Park was a summer home location for wealthy San Francisco professionals. Many large homes remain from that era with huge oak trees and other lush vegetation. Today Menlo Park is an upscale community, primarily residential, with a number of private prep schools, colleges and an excellent public school system. A complete selection of shops and stores is available downtown along with many fine restaurants. Located at the southern-most end of San Mateo County, the population of 35,000, which includes West Menlo Park, enjoys one of the nation's lowest crime rates. Although most of the homes are valued well above the Peninsula average, there are affordable areas in Menlo Park.
Milpitas
TOP OF PAGE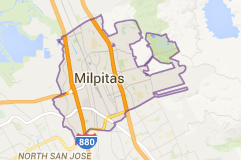 Located in the north end of Santa Clara County, Milpitas offers an excellent commute to locations throughout Silicon Valley. This, coupled with the fact that Milpitas is a great family town, makes this city one of the county's most alluring. Milpitas began as an industrial community and was home to a huge Ford auto plant. Over the last two decades, however, Milpitas began to switch gears and is now home to many high-tech firms. The old Ford auto plant is now home to one of the largest outlet malls in the state—making Milpitas the destination of many weekend shoppers, and family activities abound throughout the city. Milpitas is a fast-growing city and a large percentage of its new residents are children. They enjoy access to excellent schools with academic rankings in the 60th and 70th percentiles as well as many local parks and playgrounds. There is a new aquatic center in Milpitas, which offers four swimming pools as well as activities such as skating, bowling and the usual youth sports like softball, basketball and soccer. Homes in Milpitas are generally newer. You can find not only single-family homes but town homes and condominiums as well.
Morgan Hill/Gilroy
TOP OF PAGE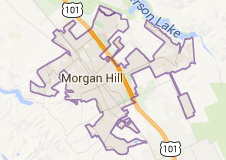 Located just south of San Jose, Morgan Hill and Gilroy has plenty of open space and a peaceful, country feel. With a mostly middle class professional population, Morgan Hill and Gilroy are home to many young families and has a variety of recreational opportunities for them to take advantage of. Lake Anderson is close by as are three golf courses, several regional parks, tennis, softball, soccer, and a myriad of other activates. Weather is usually accommodating with winter temperatures averaging about 58° and summertime temperatures averaging about 83°. One of Santa Clara County's fastest growing cities, most of Morgan Hill and Gilroy, homes were built within the last 30 years. There are many brand new housing developments Many residents make a 1/2-hour to 1 hour commute to Silicon Valley regions such as San Jose, Santa Clara or Sunnyvale but several major employers, including Abbott Labs, Media Arts and Anritsu, have recently located to the area offering more job opportunities locally. Downtown Morgan Hill and Gilroy has been renovated and is the site of a summer music and Garlic Festival, occasional the communities have street dances and holiday parades. Crime in the city is low. Schools rank in the 60th to 80th percentile and they have strong family support. When the San Francisco Chronicle identified the 16 best family towns in the Bay Region, Morgan Hill and Gilroy, were the only towns in Santa Clara County that made the list. Pay, a visit to theses charming towns and you will quickly see why.
Mountain View
TOP OF PAGE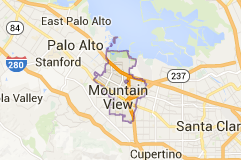 Mountain View is located at the southern tip of the San Francisco Bay. The city is home to some of the top computer and electronic firms. Its most striking feature is the NASA-Ames Research Center. With a population of over 70,000, housing is a blend of single-family and rental properties, which makes it a logical choice for single business people. Mountain View is home to the Shoreline Amphitheater and sports a newly revamped downtown and Chinatown section. Its elementary schools are ranked in the top 10% in the state and there are many parks and recreational areas.
Palo Alto
TOP OF PAGE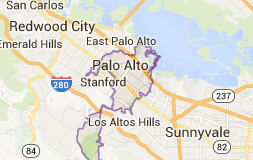 Palo Alto is located at the north end of Santa Clara County, just a short drive from San Francisco International Airport. One of Santa Clara County's most prestigious addresses, Palo Alto is home to Stanford University. The San Francisco Chronicle for good cause named it. Palo Alto has tree-lined streets, gorgeous homes and a low crime rate. The schools score very high on standardized testing with many students taking advanced classes. Palo Alto High School won an Excellence in Education Award and was honored at the White House. Because of its excellent location, Palo Alto residents generally have a very good commute to work. With companies such as Hewlett-Packard, Syntex and Varian located within the city, many people work right in town. For those who commute to other Silicon Valley towns, there are two freeways, Cal Train and a short drive to San Francisco International Airport. After work, recreational opportunities abound. There are 30 parks in Palo Alto, including a 1400-acre park in the Santa Cruz Mountains reserved solely for Palo Alto residents. Many cultural events are held at Stanford University as well as major college football and basketball. Palo Alto has a number of excellent restaurants and upscale coffee shops as well as many youth activities and enrichment opportunities.
Portola Valley
TOP OF PAGE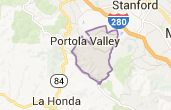 Portola Valley is a rural residential community at the southwestern end of San Mateo County. It covers the heavily wooded hills of the Santa Cruz Mountains and contains upscale homes and estates. Protected form the winds and fog that characterize most of the bay area, the climate is nearly perfect.
Stanford University is nearby and residents have quick access to I-280 and the extensive business areas of Menlo Park and Palo Alto. Excellent schools and low crime along with the natural beauty of the area attract the affluent families of the Lower Peninsula and Silicone Valley.
Redwood City
TOP OF PAGE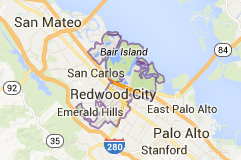 Redwood City is located in California's San Mateo County about twelve miles south of the San Francisco Airport and ten miles north of Palo Alto.
Incorporated in 1868, Redwood City is the county seat of San Mateo County and its third most populated city. Diverse and with a variety of housing styles, Redwood City offers everything from cottages to castles. The older sections of Redwood City sports charming smaller homes while the newer neighborhoods, including Redwood Shores and Emerald Lake, offer beautiful upscale living with views of San Francisco Bay.
Four different districts serve schools in Redwood City. Many of the schools in Redwood City have been renovated and some have technology-computer centers. There are magnet schools available as well as bilingual programs at Redwood City elementary schools. Some elementary schools offer after school care. With a variety of resources available and class sizes being reduced, students tend to score very well in testing with scores ranging from the mid to upper percentiles. For higher education, residents can attend Cañada College, situated right on the city's border.
Employment opportunities in and around Redwood City are vast. There are a number of high-tech firms in Redwood Shores with Oracle and Electronic Arts being major employers. The San Francisco Airport, San Mateo County's largest employer is close by and two major highways-Highway 101 and Highway 280 offer reasonable commutes.
On the weekends, Redwood City residents can enjoy a number of recreational activities. Redwood City is home to a number of parks and playgrounds as well as 20 public tennis courts and an ice-skating rink. For the nautically inclined there are several marinas in Redwood City as well as a yacht club.
An excellent City with lots to offer, Redwood City welcomes you for a visit.
San Carlos
TOP OF PAGE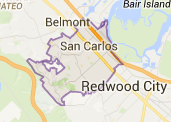 San Carlos is a wonderful community twenty-five miles south of San Francisco reachable by both highway 101 and I-280. Its population of 26,000 works primarily in San Mateo County with 16% commuting to San Francisco or elsewhere in the Bay area.
The schools are of high quality ranking in the top 4% of the nation. The neighborhoods are friendly and well established with mature oak trees lining the streets.
A saying among real estate professionals holds that "…there are no bad areas in San Carlos." The new Hiller Museum opened in the summer of 1998. This museum is located at the San Carlos Airport and offers a fascinating look at the history of aviation in northern California through the aircraft collection of Stanley Hiller, the father of the modern helicopter.
San Jose - Evergreen
TOP OF PAGE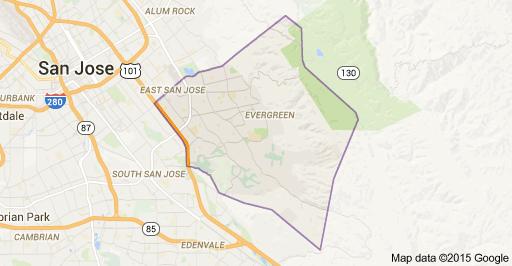 Just east of Highway 101 and tucked up into San Jose's east foothills is the beautiful neighborhood of Evergreen. One of the most culturally and ethnically diverse neighborhoods in the City of San Jose, this area includes not only many older, established homes but also some of the City's newest and most prestigious. More than 50 years ago, this area was mostly black walnut orchards. Today, however, you'll find a pleasant mix of retail stores, offices, community facilities and single and multi-family residences. Shopping in the Evergreen area is delightful. Not only is the area host to Eastridge Mall, but there are also many ethnic grocery stores and specialty shops. Residents of the Evergreen area enjoy many unique recreational opportunities. Home to Raging Waters, Santa Clara County's huge water park, Evergreen also encompasses many parks including Lake Cunningham Park, Windmill Springs Park and Groesbeck Park. Golfers enjoy access to Pleasant Hills Golf Course. High atop the hills of Evergreen rests Silver Creek Country Club, a master planned community that houses some of the most prestigious estates in the area. Here you'll find a private golf and country club that is behind a private, guarded gate. The championship 18 hole, park 72 golf course was designed by Ted Robinson. There is also a gorgeous clubhouse, racquet club and swim pavilion. Students in the area are served by the Evergreen School District. One of the fastest growing districts in the Bay Area, the Evergreen School District has as its motto "Commitment to Excellence." This commitment is evident in the district's Fifteen California Distinguished Schools and nine National Blue Ribbon Schools. Higher education is also available in the area through Evergreen Valley College.
San Jose - Santa Teresa

TOP OF PAGE
San Jose's Santa Teresa neighborhood is tucked into the foothills of south San Jose about ten miles south of downtown San Jose. Picturesque and family-oriented, this neighborhood grew up around Santa Teresa IBM, which is one of the area's major employers. Santa Teresa is a relatively new neighborhood, with most homes having been built over the past three decades. Homes in the area are moderately priced, well maintained and there is a strong feeling of community. Parks have sprung up around schools and neighborhoods and you will find many places for recreation and relaxation. Santa Teresa County Park is one of the County's biggest parks and is located in the Santa Teresa Hills. This diverse 1,688-acre park, rich in history, offers spectacular views from its trails and secluded upland valleys of the park provide a quiet spot for exploring the natural environment minutes away from the surrounding developed areas. Here you'll find a variety of recreational opportunities. The Santa Teresa Golf Club, operated by a concessionaire, offers an 18-hole championship course and a 9-hole/par three course. The clubhouse includes a restaurant and pro shop. Electric carts are available for a fee. Also located in the golf course is a banquet facility, available by reservation. The park also offers over 14 miles of unpaved trails for equestrian, hiking and bicycle use. On the flatlands of Santa Teresa is Rancho Santa Teresa Swim and Racquet Club and you will find many small neighborhood parks as well. Shopping is plentiful and convenient with several strip malls and a large regional shopping mall nearby. For those commuting to work, transportation is easily accessible with local light rail stop and many bus stops around the area. Highway 101, 85 and 87 are also convenient.
San Jose - Blossom Valley
TOP OF PAGE
Offering friendly neighbors, a quiet life style and convenient access to shopping, transportation and recreational areas, Blossom Valley is perfect for those seeking a calm atmosphere in close proximity to everything. Located in the southern end of San Jose, the Blossom Valley area is made up of mostly family-style homes clustered in neighborhoods where you will find the familiar sights of kids on bikes and parents talking to each other in their yards. This is an area to which families seem to gravitate. The schools are strongly supported by parents and children score well on standardized testing. The popular Oakridge Mall anchors an area full of quality shopping in the Blossom Valley area. Here you will find major department stores as well as smaller specialty stores. There are many top-rated restaurants in the area, supplying residents with a wide choice of dining possibilities, from casual to elegant. Recreational opportunities also abound and include golfing, swimming, hiking, movie theaters and even a small water park with miniature golf. Highways 101, 85, 87 and 280 are close by with light rail offering quick and easy access to downtown and nearby businesses.
San Jose - Cambrian
TOP OF PAGE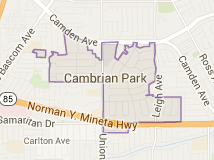 The Cambrian neighborhood is about four square miles nestled in a quiet West San Jose location. Known for its wonderful family neighborhoods, excellent schools, convenient commute and easy shopping, Cambrian has long been a desirable address. Located in one of Money Magazine's top ten most livable US cities, Cambrian has a very low crime rate and many high-ranking schools. Students in the Cambrian area attend the Cambrian School District, which holds very high academic standards. Students average in the top quartile on both the reading and mathematics sections in standardized testing and the school receives grants to support effective, progressive instructional strategies in literacy such as the Noyce Grant Program. Close to downtown San Jose, yet far enough to escape the "big city" feel, Cambrian can enjoy San Jose's professional hockey team, a symphony, art, culture, and recreation, whole also taking advantage of its own neighborly atmosphere and convenient shopping.
San Jose - South San Jose
TOP OF PAGE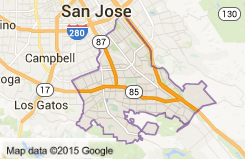 San Jose has consistently ranked among the top ten of Money Magazine's most livable cities in the United States...and no wonder! San Jose has the lowest crime rate of any metropolis in the country; it has many high-ranking schools, its own professional hockey team, a symphony, art, culture, recreation and many activities. Zero Population Growth rated it the fourth best city in the state for raising children in 1995. A mostly middle class, family town, San Jose is the third most populous city in the state. It is viewed by many as the capital of Silicon Valley and has a good employment base with lots of industry plus a major airport. San Jose is home to many major electronic firms including Adobe System headquarters with 2,000 employees and Novell, with 3,000 employees. San Jose is a very desirable city with homes both on flat land and on hills. Housing variety is plentiful with styles ranging from brand new contemporary to charming old world style bungalows.
San Jose - Almaden Valley
TOP OF PAGE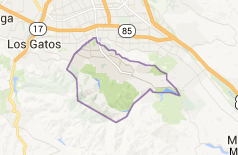 San Jose's Almaden Valley is an area of lush vegetation, upscale, family oriented homes and easy access to quality shopping. Simply defined by San Jose's 95120 ZIP code, the Almaden Valley has lots to offer. For recreation, this area is hard to beat. The New Almaden Mines and the New Almaden Quicksilver Mining Museum is a wonderful spot to explore and learn with many historic houses and buildings. Also popular is the Alamitos Creek and the Alamitos Creek Trail. Almaden Lake is a popular place for swimming in season, boating, picnicking, and fishing. For golfers, there is the Almaden Valley Country Club. Home too many high-tech employees, the Almaden Valley is home to IBM's Almaden Research Center. Those who commute to work will find easy access to all freeways, plus the convenient Almaden Light Rail Station and the Almaden Expressway. Students attend any one of four elementary schools, two middle schools and one high school, all served by the San Jose Unified School District. Schools score well in standardized testing and benefit from the support of a caring community.
San Jose - Willow Glen
TOP OF PAGE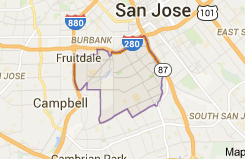 When discovered by pioneers, this area was a forest of impenetrable, giant willows and wild blackberries. Once cleared, it exposed the richest soil in Santa Clara valley, producing the finest fruits, berries and vegetables. Now, it is one of San Jose's most popular established neighborhoods. Located south and slightly west of downtown San Jose, historical Willow Glen is bounded by the Guadalupe River, Los Gatos Creek, and Coe and Curtner Avenues. "Downtown Willow Glen" is on Lincoln Avenue where you will find quality shopping and upscale dining. Quaint and handsome, Willow Glen has many trees and gardens that surround beautifully maintained homes—many of which were custom-built in the 1930s and retain their old world characteristics. It has been said that Willow Glen has some of the finest old homes in San Jose. Very community oriented, Willow Glen has parks that offer basketball, handball, tennis, soccer, volleyball courts, exercise courses, athletic fields and picnic areas. Los Gatos Creek has recently been renovated by the Willow Glen Neighborhood Association and now provides a lovely trail for biking, running or walking. During the summer, residents can take advantage of free basketball, volleyball, table tennis, weigh training and recreational swimming offered through the local gym and pool. Easily accessible to downtown San Jose by side streets, residents also have access to a Caltrain station and can quickly get to Highways 17 and 280.
San Jose - Central San Jose
TOP OF PAGE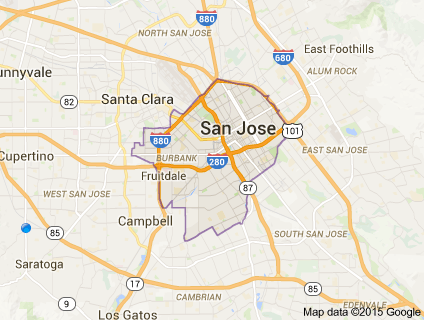 San Jose has consistently ranked among the top ten of Money Magazine's most livable cities in the United States...and no wonder! San Jose has the lowest crime rate of any metropolis in the country; it has many high-ranking schools, its own professional hockey team, a symphony, art, culture, recreation and many activities. Zero Population Growth rated it the fourth best city in the state for raising children in 1995. A mostly middle class, family town, San Jose is the third most populous city in the state. It is viewed by many as the capital of Silicon Valley and has a good employment base with lots of industry plus a major airport. San Jose is home to many major electronic firms including Adobe System headquarters with 2,000 employees and Novell, with 3,000 employees. San Jose is a very desirable city with homes both on flat land and on hills. Housing variety is plentiful with styles ranging from brand new contemporary to charming old world style bungalows.
San Mateo
TOP OF PAGE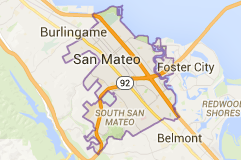 San Mateo is located within San Mateo County about 18 miles from downtown San Francisco. It is the second most populous city in the county.
Rising from the San Francisco Bay into the hills, San Mateo is a middle-class city with a diversified housing stock. Many homes in the area were built between 1940 and 1960 but you will also find a variety of newer homes. From town homes to family homes, there is a lot to choose from in San Mateo.
Schools in San Mateo are very good. They score in the 70th to 90th percentiles in standardized testing. The local high school has won national recognition for excellence. Residents recently approved a bond to renovate elementary schools and built new facilities.
Employment in and around San Mateo is plentiful. The Hillsdale Mall provides many opportunities with its major department stores and there are two major hospitals in the area. For those who wish to commute either to nearby San Jose or San Francisco there are several highways as well as a commuter train and the Bay Area Rapid Transit (BART).
After work, San Mateo residents have many opportunities for play. There are a number of parks in the area as well as a marina and bike paths that criss-cross the town. Residents can attend thoroughbred racing at Bay Meadows or enjoy a Bay beach and swimming at Coyote Point. Just west of the city is Crystal Springs Reservoir where you will find miles of open space and trails.
For affordable, convenient and enjoyable Bay Area living, San Mateo is an excellent choice.
Santa Clara
TOP OF PAGE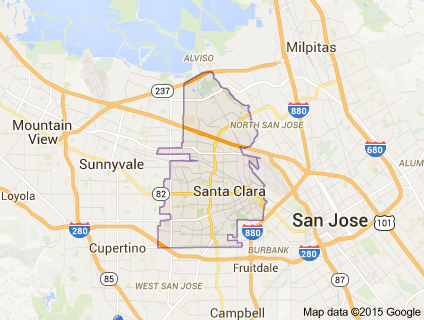 Well-established and nicely maintained, Santa Clara is the third most populace city in Santa Clara County. Home to Santa Clara University, Mission Santa Clara, Mission College and the Triton Museum of Art, Santa Clara has much to offer in the way of education and arts. The school district in Santa Clara includes many diverse neighborhoods and students generally score well on standardized testing. Some of Santa Clara's schools are located in the renowned Cupertino School District. Parents are supportive of the arts in schools and work to maintain their programs. In Santa Clara, you will find many homes built in the Fifties and Sixties, as well as an "old quad" neighborhood near Santa Clara University where there is historic pre-World War II housing. You will notice that residents have lovingly maintained their homes with considerable renovation and remodeling. With more than 31 parks and playgrounds, residents can enjoy tennis, baseball, basketball and many other recreational activities. Great America is a major amusement park and destination for families both within and outside of the area. In addition, there are many restaurants, youth centers and shopping centers. Known for turning out Olympic swimmers, the Santa Clara International Swim Center is another of Santa Clara's claims to fame. Centrally located, freeways and parkways through and around the city making commuting to work a breeze. Cal Train travels to San Francisco and the light rail starts at Great America and goes to South San Jose. Santa Clara is also close to San Jose International Airport.
Saratoga
TOP OF PAGE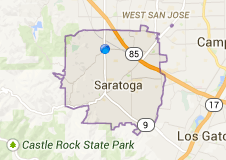 Pretty and prestigious Saratoga is home to many of Silicon Valley's judges, doctors, middle and upper managers. Nestled against the foothills of the Santa Cruz Mountains, Saratoga has a charming old town and a mineral springs in the hills. It is just a short drive to many major employers such as Apple Computer, Intel and Silicon Graphics. Those commuting from Saratoga can take the new Highway 85 that ties into the Santa Clara County freeway network. Saratoga is served by six school districts and all scores run in the 80th and 90th percentiles. In the 1996 math SAT, Saratoga High scored fourth highest in California. Education is strongly supported by the community. Higher education opportunities also exist in the form of West Valley Community College and nearby DeAnza Junior College as well as San Jose State University Saratoga is a wonderful town for recreation with nine parks and a community theater as well as regular concerts at the local Mountain Winery. There is a multitude of first-class restaurants, as well as beautiful and historic Villa Montalvo, which is the site of many cultural events. Saratoga works to preserve its beauty and is a slow-growth oriented city of predominantly three, four and five bedroom homes. Opulent custom homes can be found in the hills.
Sunnyvale
TOP OF PAGE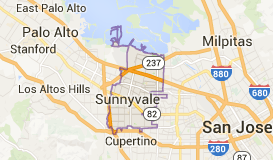 The center of Silicon Valley, Sunnyvale is the second largest city in Santa Clara County. It is bordered by Mountain View, Cupertino and Santa Clara. It has been ranked by Money Magazine as the fourth safest city in the nation and by Zero Population growth as the number one city in California for raising children. Schools in this city rank middle to high. Some Sunnyvale neighborhoods are in the nationally renowned Cupertino School District while others are served by Sunnyvale, Santa Clara, and Fremont School Districts. Parental support for education in this city is excellent. Once a city of orchards, Sunnyvale is now home to hundreds of high-tech and bio-tech firms. There are many shopping centers and plenty of restaurants. A 70-acre Bay lands Park opened in 1993 and there are seventeen other parks across the city. School facilities including gyms, swimming pools and playing fields are open the public. Two theater groups and a dance company serve the city's cultural interests. Weather is typical of the Santa Clara Valley with temperatures rarely very hot or cold. Winter lows average 50° and summer averages around 80° Sunnyvale has a wide range of housing. Forty-two percent of the homes are three bedrooms, 25% are two bedroom and 22 percent are four bedroom. Only 5% of homes have five or more bedrooms.
Woodside
TOP OF PAGE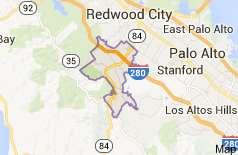 In San Mateo County halfway between San Francisco and San Jose, you'll find the prestigious town of Woodside. Aptly named, Woodside sets amid huge second growth redwoods. Woodside Store, after which the town was named, was the center of logging activity in the early 1900s. That store is now a museum and the town is populated not by loggers, but by those who are seeking a quiet and beautiful home.
Woodside is known as a horse community. There are many equestrian estates, as well as some gorgeous mansions. You can also find some small mountain cabins on ¼ acre lots. Many famous people have sought to take advantage of Woodside's peace and quiet and have purchased homes in the area. Some of the town's more famous current and past residents have included Tennessee Ernie Ford, Shirley Temple Black and Tom Cruise. Woodside is also the home of the Gorilla Foundation, which fosters Koko, the gorilla who communicates in sign language.
The Woodside School District consists of one elementary school, which ranks in the top 10 percent of the state and is a California Distinguished School. Teenagers attend Woodside High. For higher education, residents can take advantage of nearby College of San Mateo or Cañada College. Foothill College is about a 15-minute drive away.
As Woodside backs on to a game refuge, deer watching is a common activity in the area. Residents can also take advantage of the town's small library as well as the county park. Filoli, a beautiful and famous estate, is open for tours and many cultural activities can be found in nearby Silicon Valley or San Francisco.