Nothing is quite as intimidating as rolling a cake up into a log. How does it not crack? How will it stay rolled? There's no fret with this pumpkin cake roll. With a few simple tips you'll have perfect swirls of cake and cream cheese filling that will have everyone oohing and aahing when you slice into it.


Roll it when it's warm: This is the most important step to get a beautiful pumpkin roll. You want to roll your cake up as soon as it comes out of the oven so that it doesn't crack. Have a large kitchen towel ready by dusting it with powdered sugar. Carefully flip the warm cake onto the kitchen towel and remove parchment paper. Tightly roll up the cake and place it seam side down so that it stays. It will feel so wrong to roll a cake, but the warmth will keep it all together. If you wait until it's cool it will likely already be too dry and will crack and split as you roll.


Make a nice thick cream cheese frosting: A good frosting consistency is important because you don't want the frosting squeezing out when you roll the cake back up. A stiffer frosting will hold the cake together nicely and give you clean slices. The frosting shouldn't be so stiff that it tears the cake as you spread it on, but should hold its shape.


Don't frost before it's completely cool: You should never frost a cake before it's cool as it would melt the frosting, but it's important to note that a rolled cake will take longer to cool than normal. Since everything is wrapped up together the cake will hold heat a little longer. Feel free to place the cake in the fridge for 30 minutes or so to help it cool down faster. We also like to fridge it again before slicing for even cleaner slices.



YIELDS:8 - 10 SERVINGS PREP TIME: 30 MINS TOTAL TIME:1 HOUR



INGREDIENTS FOR THE CAKE: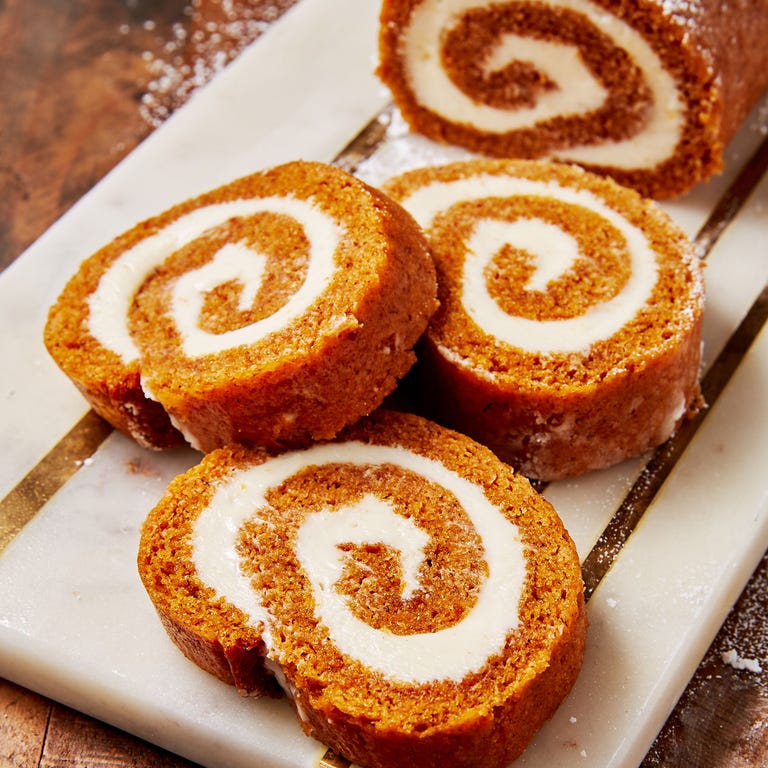 Cooking spray
1 cup granulated sugar
3/4 cup all-purpose flour
1/2 tsp. kosher salt
1 tsp. baking soda
1/2 tsp. pumpkin spice
3 large eggs
2/3 cup pumpkin puree
Powdered sugar, for rolling


FOR FILLING
12 oz. cream cheese, softened
1 tbsp. melted butter
1 tsp. pure vanilla extract
1 1/4 cup powdered sugar
1/2 tsp. kosher salt
Preheat oven to 350°. Line a 15" x 10" jelly roll pan with parchment and grease with cooking spray. In a large bowl, combine sugar, flour, salt, baking soda, pumpkin spice, eggs, and pumpkin puree until just combined. Spread into prepared pan and bake until a toothpick inserted in center of cake comes out clean, 15 minutes.
Meanwhile, lay out a large kitchen towel on your counter (try to use one with little to no texture) and dust with powdered sugar. When cake is done baking, flip onto kitchen towel and gently peel off parchment paper.
Starting at a short end, gently but tightly roll cake into a log. Let cool completely.
Meanwhile, make filling: In a large bowl, combine cream cheese, melted butter, vanilla, powdered sugar, and salt. Using a hand mixer, whip until smooth.
When cake is cooled, gently unroll (it's ok if it remains slightly curled) and spread with cream cheese filling. Roll back up and dust with more powdered sugar. Slice and serve.
Recipe pulled from: https://www.delish.com/cooking/recipe-ideas/recipes/a56732/pumpkin-cheesecake-roll-recipe/